Warehouse Automation
More Throughput. Better Output.
Solutions that Solve Tomorrow's Problems
Automated Storage and Retrieval Systems
OPEX® goods-to-person warehouse automation solutions are designed for unlimited flexibility and maximum scalability in both throughput and storage. These modular systems consist of high-density racking along with a fleet of autonomous robotic delivery vehicles, iBOTs®, which can access inventory in the storage locations. Storing inventory with OPEX's AS/RS solutions keeps them secure while utilizing your warehouse's vertical space, increasing throughput, and effectiveness. The OPEX goods-to-person solutions are ideal for multiple applications, including omnichannel distribution, store replenishment, micro-fulfillment, and ecommerce, providing users with unmatched reliability and accelerated performance.
Automated Sorting Systems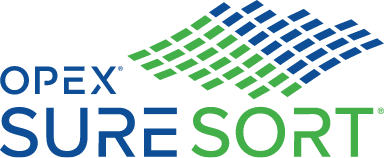 The OPEX® Sure Sort® automated put wall is a scalable, configurable, and cost-effective small-item automated sorting solution that reduces the number of excessive touches associated with existing sorters. Compact in size, the OPEX Sure Sort system is an ideal ecommerce solution for micro-fulfillment centers, retail stores, or distribution centers. Used by leading retailers, 3PLs, and distributors that require cost-effective and accurate order handling, cross-docking, and reverse logistics as an alternative solution to traditional put wall sorting, it increases productivity without increasing labor needs. Sure Sort's iBOT delivery vehicles can recharge as they travel through the system, quickly and accurately processing up to 2,400 items each hour with as little as three operators.
The OPEX® Cortex™ software platform offers an integrated order fulfillment solution for the OPEX warehouse automation systems while providing a unified yet intuitive operator experience. Advanced algorithms maximize productivity rates by connecting your warehouse management system (WMS) with OPEX warehouse automation solutions.
OPEX® Remote Performance Monitor Software (RPM®), a cloud-based performance monitoring platform, gathers, consolidates, and displays operation data using powerful interactive visualizations. RPM empowers customers to monitor the health of their machines to make smart, strategic decisions and identifies ways to improve performance and create warehouse efficiencies.
Years of experience being family owned and operated
Fortune 100 companies who are OPEX customers
Solar Powered Manufacturing
OPEX Customer Success, Service and Support
Our in-house experts assist our customers with equipment design, software, and integration across diverse markets and technologies. We also provide ongoing onsite or remote support to make sure you are up and running. All of our service technicians are certified and trained OPEX employees.